Confluence and Mythe, Stourport, Worcesterhire. [2006]
Longhouse CPD with pro/POSIT (Maguire and Patten)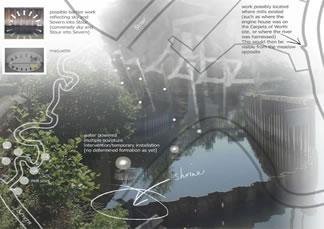 As a result of a two day residency in Stourport, proposals arose to reinterpret the confluence of the Rivers Stour and Severn. The site is intertwined with notions of water powered industry, early settlement and spirituality. Its main feature, a monolithic barrier, stands as a remnant from a former power station. The proposal aimed to fuse the hardness of the industrial Stourport with its softer and perhaps more spiritual origins.
River Severn from 'boundary', 'Stour' from Latin (stauro), Sanskrit (stharvard – firm) and Old Norse (staurr – a pole), meaning strong, powerful river. Stourport, formerly lower Mitton. 'Mitton' - old English for 'homestead at the junction of streams' or the Anglo- Saxon 'muthun' meaning 'junction of streams or roads'