Linkages, James Watt Campus, Birmingham Metropolitan College, Birmingham. [2014]
Campus redevelopment input. With BPN Architects

To understand and add meaning to the work BPN had already achieved at James Watt Campus proved quite a challenge. With most projects I would normally begin by researching the site palimpsest, however in this case it seemed pertinent to understand how both James Watt and the everyday functions and activities of the College could be interpreted to help create a sense of identity to the external and internal spaces of the new building.
Any research and development of vision and ideas takes time. David Patten who has also previously worked with BPN, wrote "Things have to be investigated, understood, explored, tested, proposed, explained, and negotiated. It is not an obvious process." That's pretty much what needs to be valued, afforded and actually happen when collaborating.
Working with mainly Larry, Gavin, Holly and Harris, I set about researching Watt's notebooks and drawings held in Birmingham City Library and making site visits to the college. We to-ed and fro-ed between poetry and pragmatics, the magic of Watt's simple diagrams and the legacy of his inventions. We entwined this with discussions on the college curriculum, from sustainability and sun and planetary motion ; engineering, gearing and mechanical linkages; hairdressing and hair growth patterns; to new technologies and ways of animating and drawing. Like Watt's experimental chemistry and firm grip on practical application, we investigated the poetic, elegant motion of an array of mechanical linkages, tracing back to Watt's Linkage and similar to a pantograph. The resulting whorls, orbits and sequences, as both drawings and physical structures, became integrated with the redevelopment.
This close working relationship took place mostly at BPN in a communal workspace. Spending time there allowed for more hands-on, intense and reflexive relationship that often eludes collaborations; even with the best intentions, time, distance and other commitments often limit contact. Drawings and maquettes could be built, displayed and scrapped together. Material and colour schemes could be researched, discussed, created and tested with everyone present. Of course this didn't make the process any more obvious, but at the end of the day, through the collective coffee stains and biscuit crumbs, there was a better clarity of progression and common purpose.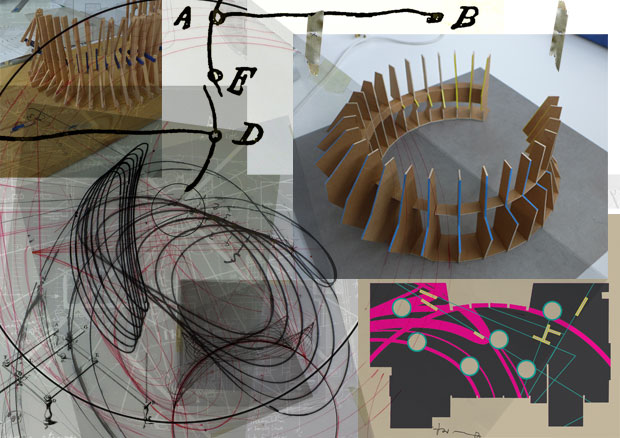 "