Green Bridge Feasibility Project, West Bromwich [2007]
With David Patten and Larry Priest/ BryantPriestNewman.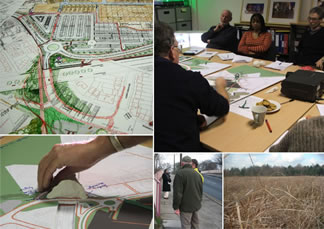 Running in parallel to engineering feasibility, the project arrived at a set of potential design principles, through undertaking discussions on the possibilities and priorities of the proposed development with representatives of local community groups. The design and implementation of the workshops ran alongside drawing session and research input. Ideas were explored to 'bridge' Dartmouth park and Sandwell Valley into the townscape, what 'green' could mean in this context and how the bridge could serve the interest of local groups and the general public.
Workshop 1 – Potential and Possibilities
Workshop 2 – Practicalities and Priorites
Findings led to a set of design principles that fed into the overall report.
Findings from Sandwell Valley 5/2/07 to David and Larry;
Parked at the farm entrance, then along the sweeping flat tarmac path toward the motorway crossing. Walking the ridge parallel to the traffic, revealing a juxtaposition of firs and deciduous, tuffets of grass tipped with dead ends. Looking for desire lines, taking me to the bridge. The beginnings of a pressed shallow dent in an earth plane slowly became a dry culvert, leading through a small wood, where the path had eroded top soil and was gently revealing root systems which lay hidden as skeletal superstructure, whilst framing fallen leaf collages. Acting as system of latticed angular ramps and steps they made a way down to the bridge. Canvassed stretched cuboids streamed beneath in grid formation. Imagining sudden arrests compacting them back into cubes or reverse extruding them into a flat plane and beyond. Over the bridge - the huge pool, its margins clipped to astro turf by Canadian geese. Groomed landscape revealing its intimate contours; vast sheets pulled through tiny gateways, bike tracks slipped into the softest ground and pathways finding sturdier side burms for dryer but less easier footing. A small stream gullied into the thrown gravel path as micro canyon though a perfect angular rock bed, a stepped brick overflow poured with water cascading and veered around every minuscule fallen item. Over to the right a grass and reed carpeted field keeping the ground secret. To the left and forty yards out, water birds perching on a surfacing wooden serpent's spine, reflecting in the low white sun to meet the shore. A huge cormorant punctuating the gulls and ducks