Kemble Airfield, Kemble [2014]
Study for a new housing development. With Define.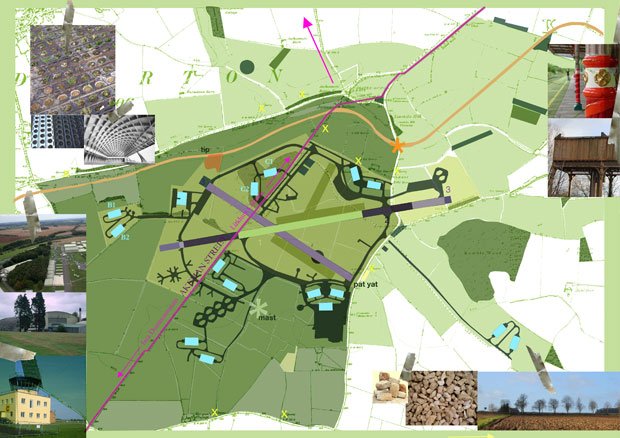 At Jackament's bottom near the edge of Limekiln Hill there is an unusual turn in the Fosse Way. We pondered on this turn and wondered why a decision had been made to change the angle or bearing of direction. Such a simple anomaly seemed to form the beginnings of a place. I imagined seeing it as landmark from above, like a pilot, to find this location or to navigate to other places. I began to look at the fundamentals of aircraft navigation, turning points, visual landmarks, bearings and invisible radial measurements from VHF Omni Directional Radio Range (VOR) stations that connect one place relative to another. Perhaps there are both geographic and geometric connections between the Fosse way turn; the zig-zag path of an aircraft; the historic landscape of wayfinding coverts , plantations and copses; the Thames's origin as it springs from the Cotwolds; and the functional geometry of the airfield.