AFC Telford United, Telford [2007 – 2008]
Research and engagement for a public art Strategy. Partnering public art consultant Emma Larkinson.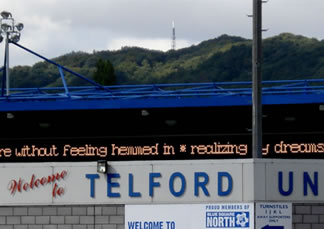 Aims of the strategy involve creating links to current community groups, maintaining and developing the ethos of the club as a hub of community activity and creating the possibilities for ongoing artist involvement. A 'Field of Dreams' project, highlighting the aspirations of local people, endeavours to begin to activate the site through a temporary projection work and develop principles for employing tactics at the club.
Field of dreams.
helping others without explanations # extending my own abilities # doing something new # still watching Jack Bentley # being creative in an advertising agency # fishing for England # playing left # midfield for maypole juniors # DJing professionally # concentrating on performing arts # photographing sport. I'd love to photograph football # earning a wage as a child psychologist # exploring # taking Telford United to the premiership # working in football and having the opportunity to change things # getting involved in building community so that people take responsibility for each other # earning money by helping people in every way # opening the bowling for England # having the capability of doing things on my own and being more competitive. a fast championship swimmer maybe…. # enjoying a life as a successful businessman # doing just what I want to do and being able to do it # purchasing my own home having a large grounds so that my grandchildren could run and play without worrying # seeing again # getting up in the morning and going to buy two croissants and a newspaper for breakfast. then I'd think about lunch # getting involved in a youth club, helping young people get a better chance in life # keeping criminals away as a crime scene investigator # loving and being loved # going up in a hot air balloon # learning to sing and be more comfortable with myself # surrounding myself with ponies in fields on a crisp winter's day # speaking French fluently # winning trophies as a karting champion # flying as a pilot in the RAF # owning my own restaurant. I would be a pastry chef # attaining the highest level of education encouraging self – employment # working as a musician # managing my own business and making my employees happy # making the world more equal # performing, travelling and learning others' dreams # modelling for larger ladies. no size zero! # making people laugh as part of a drama group # teaching women's football # moving anywhere without feeling hemmed in # realizing my dreams while I'm still young # looking good in lycra tights and then saving the world in them # working as a mechanical engineer again # driving a train # conserving the environment # sky diving naked # playing more puzzles and games # owning my own gym and running it successfully as a business # walking in a group # designing fashion lines # singing and writing poems # putting smiles on childrens' faces # being remembered for something