Longton Plots, Longton, Stoke on Trent [2010]
Lead artist and project manager with Deborah Rogers/ Cultural Sisters/ Urban Vision North Staffordshire/ North Staffordshire Regeneration Partnership/ Urban Initiatives.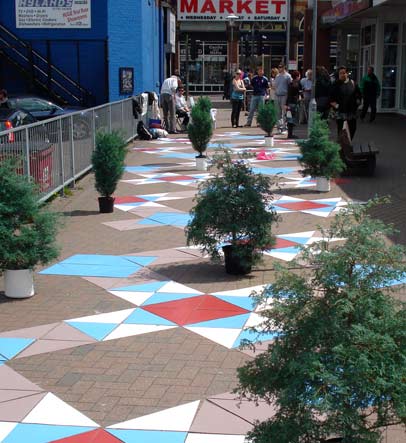 'Art isn't necessary anymore as a field, a profession; art is no longer a noun, it [has] become a verb. Art is nothing but a general attitude of thickening the plot' [Vito Acconci]
'The importance of pedestrian public spaces cannot be measured - but most of the important things in life cannot be measured either: friendship, beauty, love & loyalty'. [Enrique Penelosa mayor of Bogotá, Columbia]
Plot. a 'storyline' or action, design, development, enactment, events, incidents, movement, narrative, outline, picture, progress, scenario, scene, scheme, story, structure, a measured piece or parcel of land, a plan, map, diagram.
'Longton Plots' consisted of a programme of temporary events designed to involve local stakeholders, residents and town users as an experimental process of enquiry into the potential for change and use of spaces within the town centre.
Focusing on the possibilities of a new town square and pedestrianisation, the project aimed to develop a ground up approach to change by building local capacity and esteem in direct relation to the wider masterplanning proposals and consultation process. This ground up approach hoped to re introduce a sense of ownership that is particular to Longton, given that it was once known as a 'Liberty', defined as a place that has "a sense of freedom from arbitrary or despotic government or control, interference, obligation, restriction, hampering conditions; power or right of doing, thinking, speaking, etc. according to choice; and freedom or right to frequent or use a place." We aimed at a set of "pragmatic, streetwise solutions," which "appear to 'happen' rather than be imposed from outside." (Buster Simpson)
Working from an empty shop automatically suggested a positive shift of other values over 'exchange values'. Within it, meetings and research aided decisions on strategic locations for interventions, whilst consultation, content gathering, construction of objects, displays and engagement activities took place to inform on-site events.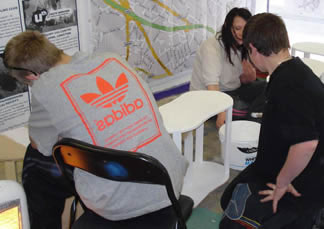 Echoing Fluxus sensibilities, materials and support were deliberately restricted to what could be resourced from businesses, groups and individuals in the town. A large site plan of the immediate town centre featured in the shop 'Hub' as a way of mapping ideas and strategically locating events. Local historians became invaluable to understand how the rich past identity and ethos of the town (once known as the China capital of the world) could begin to be reinterpreted, through both activity and physical regeneration. For example, local clubs and performers became involved to help activate spaces once occupied by such street performers as 'Whistling Jimmy'. Pottery tools, glazes, moulds and patterns became simple influences. Even the smell of food was thought to be important to awaken memories at the original location of the queues for Wedge's Pie shop, now an important nodal point between Market and Precinct.
The individual events themselves were seen as experimental rather than demonstrative, questioning and raising various 'town centre' issues, some of which were echoed in the masterplan propositions, prior to consultation. Textile artist Rachel Grant also involved local group 'Knitters and Natterers' in some 'Guerrilla Knitting'. , often including performance by the Cultural Sisters and local people.
Transport Lane Picnic [ local food/markets, reclaiming space/pedestrianisation,connectivity]; Poetry and Paving [investigating surfaces, planting and maintenance, seating, town gateways]; Strand Park [planting and greenspaces, everyday performative activity ]; Strand Event Day [planting, seating, greenspace, surfaces, town centre location, and pedestrianisation]; 'Night Square and Town Hub' [lighting, seating, film, night activity - animation workshops]; 'Paint the Bridge' [existing architecture, town gateways and identity].
Some images of various activities: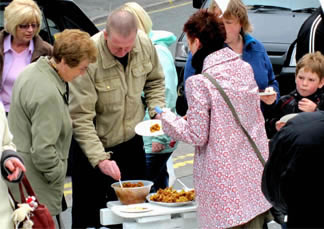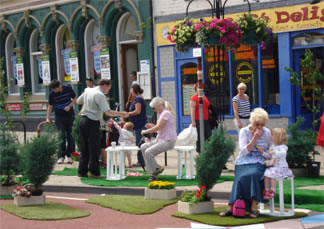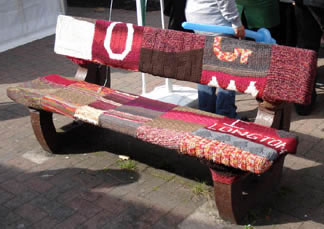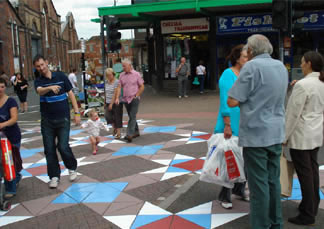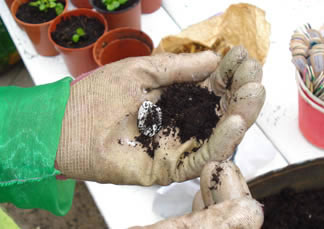 Direct conclusions from the experimental plots events identified a programme of further pilot projects as being an instrumental next stage in providing ongoing poetic solutions for elements of town centre design and programmed creative activity. They aim to continue to build local capacity by interconnecting local artists to identified individuals and groups, schools and colleges, local historians, creative organisations and design professionals.
Whilst feeding back into masterplanning, pilot projects were suggested as the beginning of an art strategy that could hopefully be inherent within future planning guidance documents and regeneration initiatives.